The Wizard of Swamp Alley In the Land of Sha Bebe
By Mary Lynn Plaisance

The third book in the series of Mary Lynn Plaisance folklore novels In the Land of Sha Bebe.
The adorable citizens of the Land of Sha Bebe, the cloth dolls, are entering a new adventure, meet new friends and foes, while learning new values during their preparations for their favorite Holiday, Halloween.
?Where am I?? Poulette was floating in mid-air. ?How did I get right here??
She looked around and saw nothing but the gray sky and a hole in the back of the armoire, and she was in the back of it. ?But how can I be in the back of the armoire, when the armoire is against the wall??
One of the magic quilts came floating out of the hole, and Poulette grabbed it to sit on, while she tried to figure out where she was. ?Did I die?? she said to herself. She was surrounded by the drab, outdoor gray sky of this unknown place.
When she turned to her left, she saw a huge sign on a tree that said GRAVEYARD.
?Oh sha, I must be dead for sure.?
All of a sudden she heard voices.
Still floating on the quilt in mid-air, she looked down and noticed she was in another land of dolls. It seemed as though she was in another dimension that was an exact replica in structure, but not at all like their land in appearance. Unlike their own land, this one was filled with dolls that had clothes that were shabby and soiled and hair that was a tangled mess of gray and white...
Dedicated to the spirit of Louisiana and based on the folklore of the land, this last book of the In the Land of Sha Bebe trilogy, this novel is as original as the Sha Bebe dolls, also created by Mary Lynn Plaisance and greatly entertaining for all ages. Although it?s the third of the Sha Bebe books, it can be read as a single novel without causing confusion for the reader. However, once you?ve read one of them, you might really want to read the others: Do you Believe In the Land of Sha Bebe and Cajun Fairies In the Land of Sha Bebe.
A very enjoyable, magical adventure, entertaining and compelling, written with the loving dedication to Louisiana.
R&B Pratcher, 2008
The Author Mary Lynn Plaisance with one of her Sha Bebe dolls, her own creation.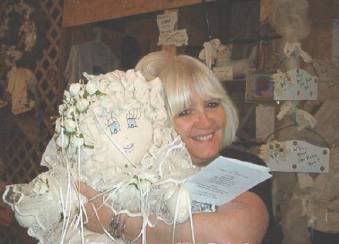 Two Sha Bebe dolls on the braided rug road.