Christmas Traditions
As you might already know, Christmas is our favorite Holiday and we truly enjoy the season. As you might also know, one of us comes from Germany (that would be Birgit) and grew up enjoying Christmas in German Tradition.
One should think that Christmas is the same everywhere, but the traditions are a little different between Germany and the United States.
When I grew up, you very seldom would find a window that is decorated with lights. Only the stores had those kinds of windows.
In Germany we did not put up and decorate a tree until Christmas Eve. That was the day when my father would bring the Christmas tree from the garage, or the basement, where it had been waiting to be the star of the occasion for at least a week. During the waiting period I was not allowed to enter either the garage or the basement.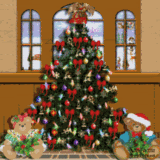 On Christmas Eve, in the morning, my father would gather boxes with lights and ornaments and then shut the living room door behind him. From that moment on I was not allowed in the living room until it was time for the presents!
Here let me explain to you that in Germany houses usually have a living room that has a door, which can be shut and locked, as does the kitchen. Small hallways lead all through the house, along the doors of the rooms.
Before Christmas Eve we enjoy the advents time, the last four Sundays before Christmas. On the table, usually the kitchen or dining table, we have a decorated wreath with four candles on it. The morning the first candle is lit is always very exciting, you just know that now it will not be much longer until Christmas. Each Sunday another candle will be lit in addition to the first one and when, finally, the fourth candle joins the light, you are just thrilled to the brim with anticipation.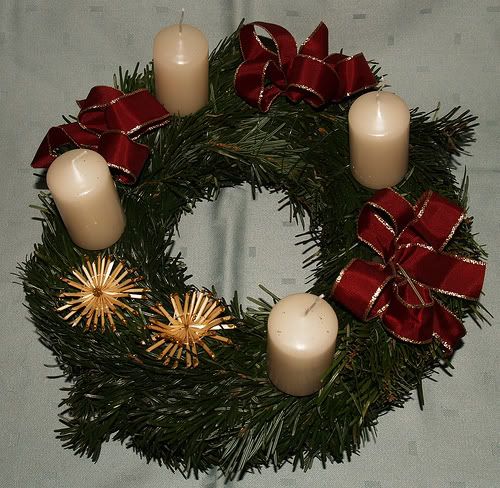 In the meantime, on the first of December you get to open the first of 24 doors on your Advents Calendar. Behind each door you either find a picture with a Christmas motive or a piece of chocolate, shaped as a Santa boot, a toy or a star. The last and final door on the calendar, the door with the number 24, is the biggest and has the best surprise.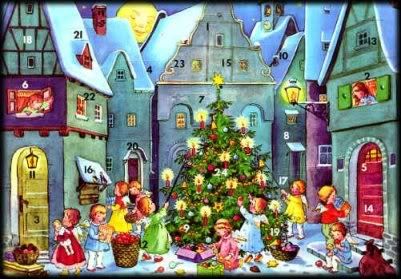 By time our kids were coming up of course those calendars had advanced and you could find an actual toy behind each door.
On the night of the 6th of December or the morning of the 7th of December, probably depending on how good the kids are and how busy he is, Santa Claus, or as we call him, Nikolaus, will come and bring small presents, fruits, nuts and cookies to the children, if they were good.
If the children were bad, well, then they might be scolded or even risk a whipping with his rod of brushwood. Santa Claus is always accompanied by his loyal servant Ruprecht.
Now, Santa Claus can either stuff his gifts into the boots of the children, or, if the child is very lucky, he can show up in person, with his huge book, where he has handwritten notes reminding him about the little good and bad things the child has experienced during the year.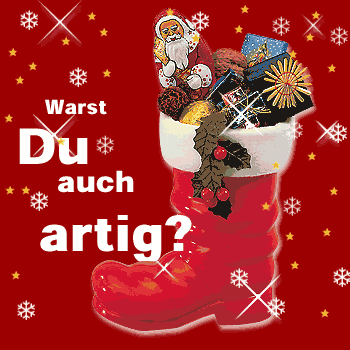 All during the four weeks of Christmas, little gifts can pop up for children. My favorite always was the big oven in my Grandma's house. It was in my aunties living room and it probably could have heated up the entire house, but it was not used any more. However, it had a little opening and when I peeked into it, I often found little presents awaiting me. My all times favorites were books, little pixie books, adventure books, historical books, oh it was a wonderful time! Books all over, all for me! (Yes, I was a little bookworm, all my life)
Of course Christmas time was the time to tell stories, sing lots of songs and read poetry. I was very blessed to have a wonderful aunt and two really loving grandmothers along with great parents, who never grew tired of reading to me, telling me stories and singing with me. Of course, hearing a story just once would never do, I had to hear it over and over again. (How did they ever survive!) And then there are the cookies! Tons of cookies! At least one week straight we were making cookies, two or three different kinds each day, until we had huge trunks filled with cookies, which were under the strict lock and key control of my mother. Every day a small tray was filled with the varieties of cookies and we would nibble on the sweet delights while we sipped hot cocoa.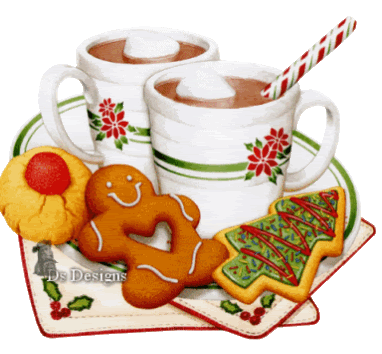 I know, right now you are wondering: If Santa Claus is already coming so early in December, what are those poor German people doing for Christmas?
Oh, don't worry, we are just getting started!
First, let me talk about the Christmas markets! Just about every town has its very own little Christmas market with stands and rides. Most famous are the ones in Frankfurt, Aachen and Nuernberg. Those are wonderful places to mingle, shop and eat and, most of all, drink Gluehwein. Gluehwein is red, spiced wine, heated up to warm and comfort on those cold winter days. (I really don't like it, but most people do)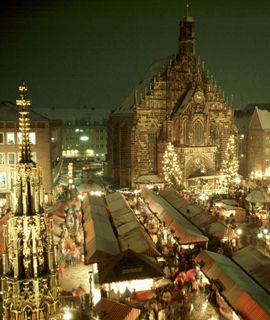 Besides all the stories, poetry, the singing and believing in Christmas magic there is the wonderful writing of Christmas-wish-lists. After we sit down and write a wish list (mine always was very, very long and usually started with the wish for a dog and a pony, I already had cats and birds and tiny fury critters) it continued with books and albums of stories. Yes, back then you could put an album on your turntable and listen to a story, isn't that great? It actually was even better than TV, because you did not have to look at a screen and had your hands and your eyes free to do other things, like drawings! (Mine never were any good, but I loved doing it) and Christmas decorations. I was very busy in December, creating decorations for the tree and any spot in the house where you could hang or stand up anything Christmassy.
Letters with the wish-list were put outside the window on the windowsill at night. In the morning the letter would be gone, to the office of the Christkind!
And there we are, approaching Christmas Eve! As you remember, Santa Claus or Nikolaus, is coming on 6th December, which means his job is done for the year, but someone has to deliver gifts on Christmas Eve! That is the job of the Christkind, or Christ Child, which actually is a golden angel and the right hand of little Jesus.
There are many helpers, hundreds of chubby angels, helping getting presents, wrapping them, sorting them and helping to deliver.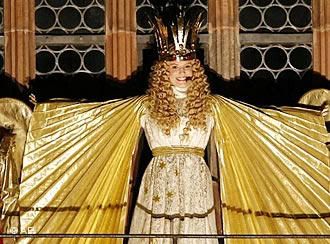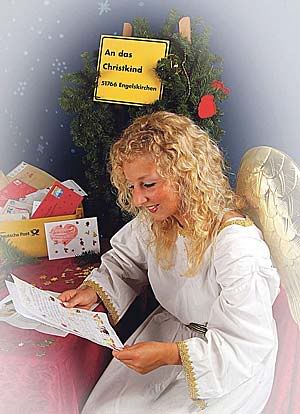 The living room, of course, will remain locked, until the time has come, on Christmas Eve, to enter and celebrate. The time is passed with more stories about Christmas, Jesus and miracles, the radio will be playing constantly, filling the house with Christmas songs or stories. Those are the best radio days ever!
Usually a little bell will ring, to let us know that the Christkind and the angels were there and have delivered the presents.
(You would not believe how often I have peeked through the keyhole, yes, we use skeleton keys for our doors in Germany, and was sure that I had caught a glimpse of the Christkind or one of the angels! I could see the beautiful bright light that is surrounding the Christkind and the angels, I think that I even could see the golden wings!)
After the little bell has done what is supposed to do, alarm the family that someone has been in the securely locked living room, we all go in and take a deep breath.
The tree will be so beautiful, decorated so carefully with lots of tinsel and lights and shiny ornaments and a few little pieces of Christmas decoration, created by yours truly, it does not only brighten the room, it brightens the entire house and everyone's heart.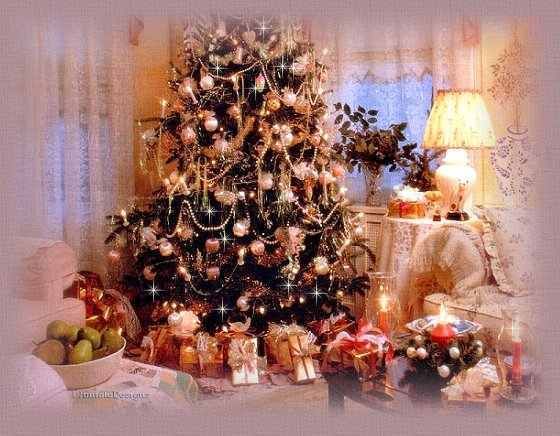 Of course we do not run toward the tree to claim our presents, instead the entire family will stand there, in front of tree and presents and sing Christmas songs. Often one of my parents or my brother would play along on the piano. When I was older I finally had the honors to do the music playing. (Another thing that I was not very good at and more reason to believe in miracles, because they never hurt me for my music-messes).
After we are done singing our favorite songs, we get to unpack our presents. Usually it is still early, celebrating often starts between 4 and 6 pm, so we grab our coats and go to grandma's house. There we will repeat the procedure, sans piano (she only had a violin, which my auntie played so beautiful, it could fill your eyes with tears and get your heart to ache).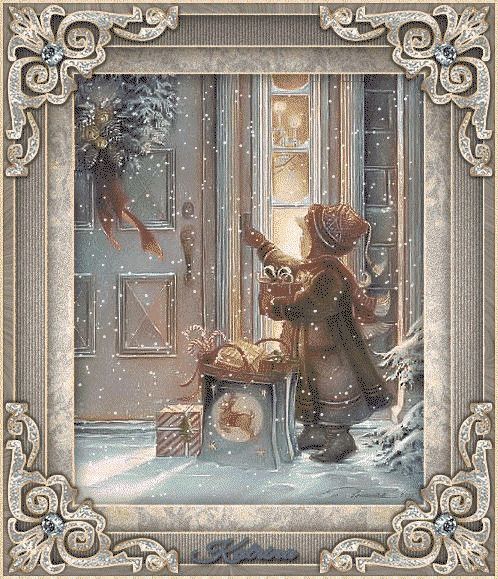 On Christmas Eve each present is unwrapped and honored. Christmas day, which in Germany we have two of them, the 25th and the 26th of December, we spend visiting friends and family, or having them over for Christmas dinner.
The visiting, eating, gift-giving and celebrating can last a full week, all the way to new-years eve, where the next celebration will start, but that of course if a different tradition, still involving lots of food but fewer presents.
Last, but not least, in Germany you can say "Happy Holidays" without ever offending anyone. It is not a religious expression, instead you combine the two Holidays of Christmas and New Years. Other than mentioning each day separate, you combine the two (three if you count the German 2nd Christmas Holiday, the 26th of December) Holidays and wish Happy Holidays!
I hope that you enjoyed the little trip to Germany for Christmas celebrations!
Have a merry Christmas, fill your hearts with love and joy and your stockings with our books! (You find them at Amazon!)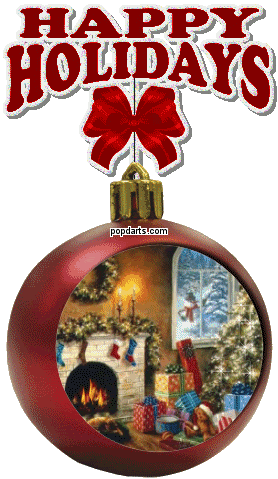 Love, light, peace and many blessings,
Birgit and Roger
Visit us at www.wonderfulstories.net